Hey there! I'm dropping in to say hello and fill you in on what's going on in my world these days…
•As I predicted, I've been MIA with getting all things ready for our home closing in October.  It's been an intense couple of weeks, but you know what? I'm really enjoying it! My Type-A personality has come in very handy and I feel like we have a good handle on things so far, though we did hit a slight bump in the road this week. We're just hoping everything works itself out and it doesn't cause a major setback. Kleber and I have shifted from being so nervous about the the big changes to wishing things were moving along faster than they already are.
•Kleber celebrated his 29th birthday this weekend! We usually treat ourselves to special concerts or events for our fall birthdays, but we decided to forgo any gifts this year to save up for the home improvement projects we have in mind. But with the help of his sisters, we still managed to have a sweet little surprise celebration complete with friends, drinks, food and cake in his honor. He wasn't expecting it making it all the more special. It was a great way to start another exciting year.
•I have a family session scheduled next week in NYC which I'm super psyched about! Because I've been so preoccupied with all the personal changes in my life, I haven't been proactive with getting the word out on fall sessions. But I do welcome the opportunity to step away from  all the moving and packing to create some beautiful art. So if you or anyone you know is looking for family/senior/engagement/maternity photos for this season, please contact me.
And because today is Around the World Tuesday at Communal Global, here's a picture of Kleber's super cool birthday cake made by his sister Priscilla of Cake, Bliss and Treats. I forgot to take a picture of the cake, but luckily Pris took a shot of it with her camera phone.  We're deep in soccer season in my house and this cake with his favorite team's jersey (Liverpool) couldn't have  been a better fit – thanks Pris!!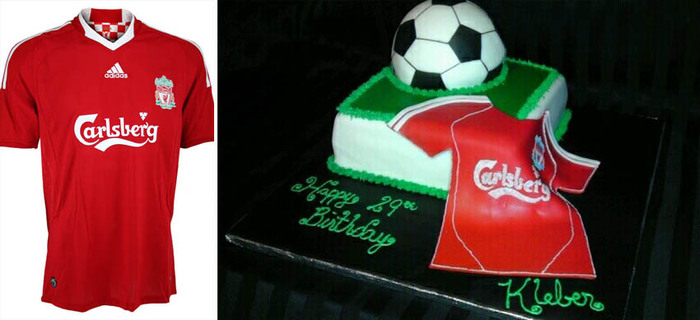 Left: The official Liverpool jersey.  Right: Kleber's birthday cake.